Our Footprint in the AI and Machine Learning World
Recently, Deepak and I did a webinar on the impact of machine learning and artificial intelligence on e-commerce content. Machine learning is a huge part of mainstream business practices. According to some research, the artificial intelligence market is expected to be worth $16B by 2022, growing at an average rate of 63 percent from where we are in 2016.
Can you imagine the intensity of this growth? It's going to have a massive impact on nearly everything we do. We're already seeing the first ripples of it in both consumer and enterprise businesses: think bots like Alexa.
At CrewMachine, we build e-commerce content for large brands. Our platform is elegantly designed to optimize any type of e-commerce content by identifying blaring gaps, enriching them, and then measuring for building the machine's intelligence over time.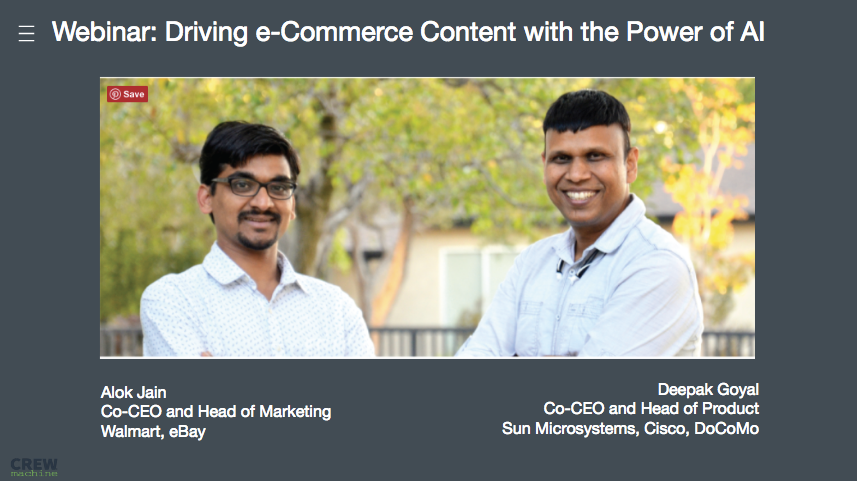 In this webinar, we talked about how we are at the front line of this exciting new innovation. We're integrating the concepts of machine learning and AI to create specialized e-commerce content and speed up the content production cycle.
Machine Learning and AI Will Enable Human-Powered Content in E-commerce
Artificial Intelligence has widespread usage across most e-commerce applications, but our focus is on e-commerce content. Why? Because e-commerce content is all about scale. We talk about SKU's in terms of millions and trillions.
To handle these millions and trillions, you need to think beyond human-powered content production. You need to understand how machine learning can be leveraged to help human-created content. CrewMachine includes AI-generated content modules to solve this burning need.
How It All Comes Together
In our webinar, we discussed big data and the magnitude of data growth. It is growing at a rate of 40 percent and we are looking at around 45 ZB (whatever that means) of data by 2020. The e-commerce industry's massive growth is a big unknown. The B2C e-commerce industry is pegged $2.35 trillion by 2017.
As we look to the future, e-Commerce is going to be data-driven and powered by predictive analytics, personalization, and other machine-learning related issues. There's another data point around the robotics and AI wave, also classified as the fourth wave connecting more than 50B devices in 2020. We did the math and decided to incorporate AI and Machine Learning in CrewMachine's design DNA to resolve e-commerce content headaches like abandoned carts, returned items, lost brand trust and more.
The big question – Want to know how we are driving this innovation? There's so much terminology with machine learning and AI especially as it is used for e-commerce. Interested in which components we are using the most and wondering how can we explain it all clearly?
We'll talk about this in our next blog.
Latest posts by Alok Jain
(see all)