20 E-Commerce Automation Tools For Online Selling Efficiency
E-commerce offers the promise of opportunity for small and large enterprises alike, but competition is fierce. Any tool that gives you an edge is worth exploring and there are plenty of automations that will lower your overhead and streamline your sales. The following are only a few reasons to explore automation tools.
To effectively manage cart abandonment
To analyze data and find efficiencies
To better understand customer demographics
To smoothly integrate post-transactional email marketing
To optimize product pages and maximize conversions
Here is a list of 20 automation tools worth your attention.
1) Sellbrite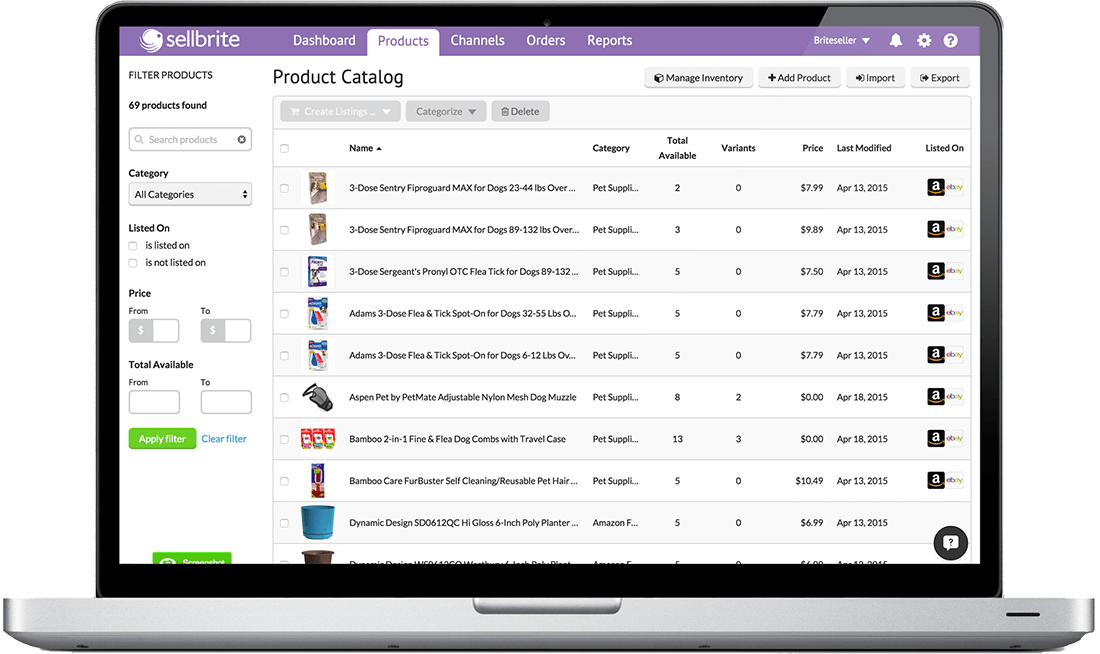 Sellbrite is a cloud-based tool that simplifies multichannel listing and inventory management. It also helps with order fulfillment and provides reporting tools.
Noteworthy Features
Simplifies listing and selling products on multiple sales channels
Helps user control and sync inventory
Lets sellers manage and fulfill orders
Gives access to multichannel reporting intelligence
Helps create and publish listings
Generates powerful reports
2) Yotpo
Yotpo is designed to help you generate more reviews, thus increasing sales and building community.
Noteworthy Features
Mail-after-purchase feature automatically emails shoppers for reviews
Enhances SEO and raises search rankings on Google, Bing and Yahoo
Helps retain buyers
Builds trust with potential buyers
Promotes visual marketing through customer-generated images
Provides an easy way to advertise on Instagram
3) Pardot
Pardot, by Salesforce, enriches your B2B marketing automation.
Noteworthy Features
Generates high-quality leads
Streamlines lead management
Speeds up your sales cycle
Enhances every aspect of your marketing program
Tracks campaign engagement and performance
4) Marketo
This multi-functional platform provides marketing automation, customer engagement marketing, real-time personalization and marketing management functionality.
Noteworthy Features
Email marketing and campaign management
Lead-generation tools
ROI measurement and optimization
Search marketing
Landing pages and forms
Site visitor tracking
Web and mobile personalization
5) Customer.io
Sends marketing messages to customer lists that are chosen according to their unique interaction with your business.
Noteworthy Features
Sends targeted emails based on user behavior
Includes flexible segmentation
Provides customization according to data
Tracks page views, attributes, events and email activity
Offers conversion tracking
Maintains rich customer profiles and in-context conversations
6) Canterris
This all-in-one marketing tool accelerates sales, optimizes content, manages leads and coordinates campaigns. Canterris is a well-rounded e-commerce marketing automation tool.
Noteworthy Features
Creates and manages email, lead nurturing and newsletter campaigns
Identifies sales leads to close more deals
Includes website publishing tools
Optimizes web content
Contains a growing library of plugins, modules and extensions
Provides marketing analytics
7) Eloqua
Oracle Eloqua helps e-commerce businesses simplify and energize marketing automation. It's ideal for small, mid-sized and large enterprises alike.
Noteworthy Features
Helps in plan and execute campaigns
Lets businesses deliver a personalized customer experience
Helps campaigns scale across channels
Brings integrated lead management
Allows easy campaign creation
Allows engagment with the right audience at the right time
Gives real-time insight and helps sales teams close more deals
8) IFTTT
Short for "If This, Then That", this tool links different web tools and services with user-created "recipes". IFTTT allows users to define a trigger and a consequence, linking two different apps or tools.
Noteworthy Features
Currently supports 330 tools including Dropbox, Facebook, Instagram
Offers syndicate data via social channels
Allows auto-backups
Customizable
Offers ongoing app integration
9) Hootsuite
Manages all social media accounts within one app. The dashboard features enhanced analytics reports, message scheduling, app integrations, RSS, team members, message archiving, geo-targeting and Hootsuite University to enhance your knowledge of the tool.
Noteworthy Features
Updates multiple networks in one step
Manages multiple contributors
Optimizes delivery
Gathers intelligence by tracking brand mentions
Creates social analytics reports
Allows scheduled social posts
10) Buffer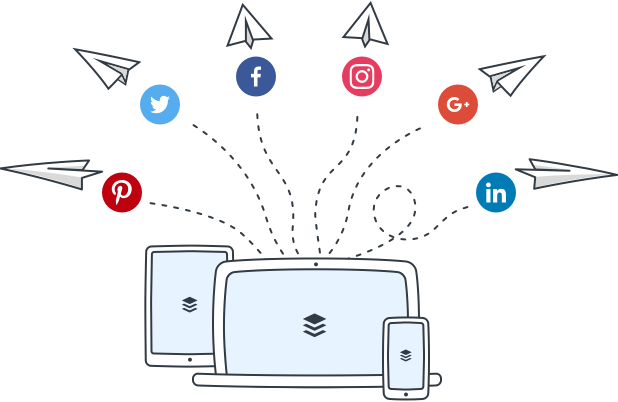 Buffer provides an e-commerce software solution for messaging across social media platforms. It integrates with common social channels such as Twitter, Facebook, Google+, LinkedIn, Pinterest and more.
Noteworthy Features
Connects RSS feeds
Provides detailed social analytics
Holds up to 2000 scheduled posts and tweets
Provides sharing across up to 200 social accounts
Shares all media formats
Offers aggregated stats, comparisons and more
Allows team collaboration with admin rights
Maintains high security with two-step login
Includes custom scheduling
11) AdRoll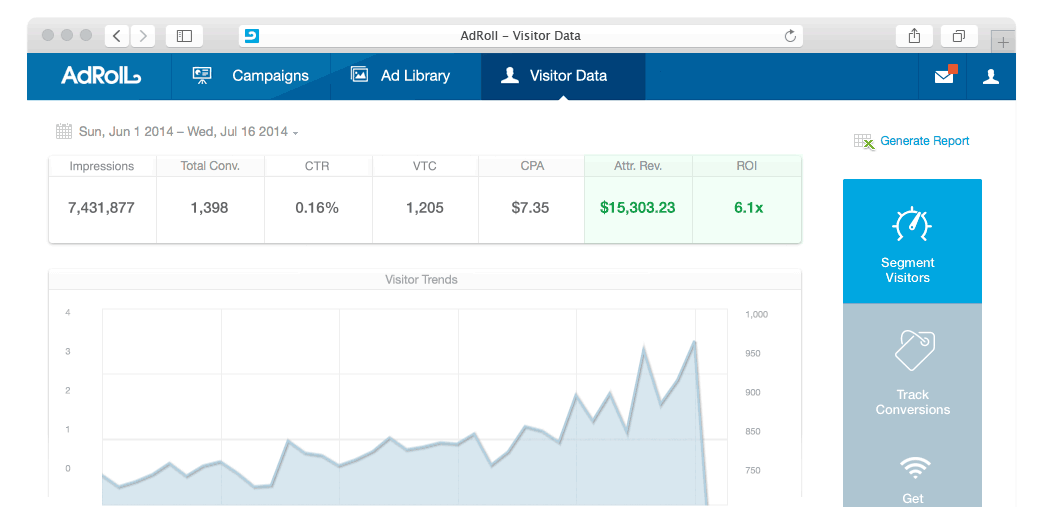 AdRoll is a popular retargeting and prospective platform for ecommerce businesses. It helps businesses attract new prospects and convert customers while enhancing customer value.
Noteworthy Features
Helps businesses reach their customers across devices, browsers and apps
Helps with ad placement and performance monitoring
Allows easy integration with top marketing apps
Targets high-intent audiences using relevant ads
Runs loyalty campaigns
Cross-sells to existing customers
Uses CRM data to re-engage with existing customers
Targets prospects by maximizing your CRM data's value
12) Sprout Social
This social media management tool helps track social media messages, monitors brand keywords and customer profiles, and engages in two-way communication.
Noteworthy Features
Includes a social media dashboard
Analyzes link performance
Showcases Twitter follower demographics
Provides engagement and influence scores
Searches customers by location
Discovers customers by interest
Monitors competitor activity
Offers social CRM tools
Organizes contacts
Provides audience engagement tools
Offers social media publishing
13) Snip.ly
Sniply is a powerful tool that helps marketers get more returns on their links. It's designed to leverage content curation and drive targeted traffic back to your website.
Noteworthy Features
Adds a call-to-action on any page
Helps engage followers through link sharing
Helps generate unique links, share links and drives conversions
Monitors engagements and tracks results
Keeps track of link clicks and conversion rates
14) Tailwind
Tailwind is a platform that helps brands achieve visual marketing success. Tailwind helps businesses manage and optimize their visual campaigns from end to end.
Noteworthy Features
Helps businesses manage content and UGC from the visual web
Builds lasting engagement with time-saving benefits
Enables data-driven content strategy
Helps brands discover key trends in the industry
Runs contests to build your brand and drive traffic
15) Ability Commerce
This tool allows you to integrate your order management system (OMS) and accounting system with the help of mobile-optimized versions of stores and tools. The included SmartSite manager helps you change store promotions, prices, images and products in the web store.
Noteworthy Features
Channels feed service
Experienced commerce experts monitor your products daily
Helps to better position products
Motivates buyers
Boosts sales
16) BigCommerce
This service offers hosting, store design, SEO, mobile commerce, marketing and inventory tools. BigCommerce also helps integrate your web stores with eBay listings.
Noteworthy Features
Superior ROI
Customizable framework
Centralized hub for all sales channels
Abandoned cart saver
Pre-integrated payment options
Flexible web-based format
17) Intuit E-Commerce
This point-and-click interface allows easy design publishing for online stores. It features a merchant account that enables businesses to move beyond PayPal payments and offers an auto-syncing Facebook extension to create a Facebook Business Page.
Noteworthy Features
Personalized interface
Multiple users
Encrypted, secure scanner
Transaction history report
Voids charges, resends receipts
Syncs with QuickBooks
Email invoicing
Custom receipts
Video tutorials
Tracks offline payments
Accepts all credit cards
No setup fee
Free mobile application
18) Shopify
The advanced SEO and analytics features enable the user to pick a template, optimize its design, add a product catalog, and create blog posts. Tracks customer purchases and shopping cart transactions with Google Analytics integration. Creates store performance benchmarks with built-in analytics.
Noteworthy Features
Lets you use your own domain name
Sells on Facebook or in store (POS)
Includes abandoned checkout recovery
Features 70 payment gateways
Translates in 50+ languages
Integrates with dropshippers or fulfillment centers
Search engine optimized (SEO)
Offers product reviews, discount codes and coupons
Provides a full blogging platform
Features social media integration
Includes unlimited bandwidth
19) Vendio
Provides easy listings for eBay, Amazon, Facebook and your web store. Vendio features inventory control, sales and order management, email marketing, a shopping cart with drag-and-drop useability, and an analytics report. Integrates with Google Analytics.
Noteworthy Features
Ad-free shopping cart
Customizable web store
Real-time inventory management
Amazon Seller Central
Vendio Image Watermarking
Accepts Authorize.net, PayFlow Pro and PayPal
Offers eBay market research
Provides order management
Includes shipping management
Automated feed to Google Product Search
Features SEO guide and features for web store
Offers reporting and analytics
20) Searchmetrics
Searchmetrics is a content experience and SEO suite that brings rankings and traffic benefits to brands. This suite helps by removing guesswork in online optimization. It offers competitive insight and market analysis.
Noteworthy Features
Helps brands boost their online visibility through harnessing SEO and content marketing
Helps brands reach the right prospects at the right time
Lets brands leverage the most advanced forecasting and analytics